This morning I got to meet a wonderful patient who had a problem. Their Bicuspid on the lower right was broken, and it was causing pain. The tooth was broken underneath the gum and bone, and so when it flexed it pinched the tissues and the bone- extremely painful!!
Unfortunately, when a tooth breaks below the gums, it almost always needs to be extracted. So, what are the next options? Here's a quick run down of the best options that we recommend: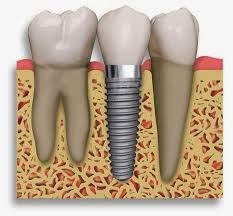 ImplantWe love implants as a replacement option. They last forever, and have a very high success rate- about 95%. The crown gets placed on top of the implant, and it appears to everyone like a real tooth. You can floss like normal, and treat the tooth just like any other tooth. While this is a great option, the only negative is that it takes time. Usually the entire process can take 7-12 months, depending on the situation. Sometimes extra bone is required, and that can push the process closer to the 12 month timeframe. Total Cost: $2,000-$3,000 depending on insurance.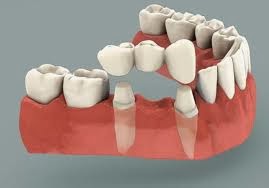 BridgeIn some situations a bridge is a better option. A bridge is basically three, or more, crowns welded together to become one large tooth replacement. It is permanently cemented in place, and looks identical to three teeth with new crowns. We can make them out of a few different materials now, some of which are extremely strong and unbreakable! The expected lifespan of a bridge is a minimum of 15 years. The only negative of a bridge is that you can't floss like normal with them(you would have to use a floss-threader). A bridge is great for situations where the adjacent teeth are previously restored with fillings or need crowns anyway. Total Cost:$2,700, but only $950 with most insurances.
Which one is for you? It would be best to ask one of the Doctors here at Williamsburg!