Imagine getting implants to lock-in your denture in just 1 appointment using your existing denture!
Here at Williamsburg Dental, we've been placing and restoring implants for single teeth and bridges for years.  These implants for single teeth work great, look great, and will last many years. We are such strong believers in them that these are our highest recommended option for replacing teeth and filling in gaps.
However, sometimes we just want implants that will help retain a denture or partial denture.  Now we have a much easier system to make this a reality for our patients.  They are called the min-implant.
They are placed in the gums, and attach directly to your denture.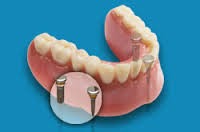 Above is a picture of the mini implant with a built-in Locator attachment.  These attachments can be placed into any existing denture or partial, and they can hook your denture into your jaw bone with different strengths of bonds.
We are seeing many patients love these mini-implants as a way to eat what they want and have the peace-of-mind that their denture won't fall out when they're going about their lives.
All the doctors at Williamsburg Dental are now placing these implants as a way to help their patients, and you don't even need a new denture.  These new implants and connections are the easiest, fastest way to  make a floppy denture into a rock-solid option for eating and enjoying life.  Call us today to talk to a doctor and see if mini-implants are an option for you!