Seeking routine and quality dental care for your child now, is an investment in their health that will pay lifelong dividends. The primary goals of a children's dentist are prevention and maintenance. If you are prone to tooth decay or gum disease, your children may be at higher risk as well. Make your child's dentist appointment with the gentle and experienced children's dentists of Williamsburg Dental today.  Williamsburg Dental keeps families healthy year round throughout South Lincoln, NE, Centerville, Crete, and the surrounding communities.
A Children's Dentist Checkup:
Helps children chew properly to maintain good nutritional habits
Stops tooth decay and prevents gum disease
Helps with speech development
Helps find occlusion problems early (orthodontic evaluation)
Promotes a healthy smile that helps install self confidence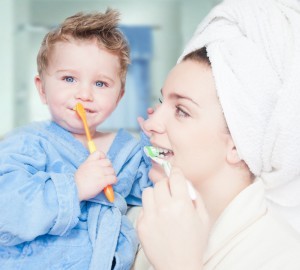 What Can a Children's Dentist Offer Your Family?
Dental Sealants– A dental sealant creates a highly-effective barrier against decay. Sealants are thin plastic coatings applied to the chewing surfaces of a child's permanent back teeth, where most cavities form. Applying a dental sealant is not painful and can be completed in one dental visit.
Fluoride Treatments– Fluoride is our primary weapon against tooth decay. Fluoride is a naturally occurring mineral that combines with the tooth's enamel to strengthen and fortify it.
How to Help Your Child Get Over a Fear of the Dentist
You can start by setting an example for your children. Taking good care of your own teeth sends the message that oral health is something to be valued. Additionally, always try to answer your child's questions about dental visits honestly and sensitively. You can also try the following methods:
Sneak Preview– Take your child with you for your next dental checkup to see you having your teeth examined and cleaned.
Educate Your Child– Many books and online resources are geared toward teaching children more about dental health and dentist visits.
Play Pretend– Take turns being the dentist and the patient with your child. Examine each other's teeth with a mirror or use your fingers to count each other's teeth so that your child will become familiar with dental examinations.
Timing Is Everything– Plan plenty of time so that the dental visit isn't rushed; also, make sure your child is well-rested before the visit so that they are as relaxed and comfortable as possible.
Lincoln Children's Dentist Appointments
You should schedule your child's first dental appointment before their first birthday and every six months thereafter, starting at age three. With good oral hygiene and regular dental visits, your children will have a solid foundation for maintaining healthy teeth for the rest of their lives. You can make dental checkup appointments for your entire family at Williamsburg Dental today. The highly trusted Children's Dentists of Williamsburg Dental are dedicated to protecting your child's good health.  Williamsburg Dental proudly serves patients of all ages throughout South Lincoln, NE, Centerville, Crete, and nearby areas.