Orthodontic treatments are not just for pre-teens and teens anymore; they're for adults too.  Successful orthodontic treatment will not only improve your oral functioning like speaking and eating, but can also improve your oral hygiene, and the appearance of your smile. Williamsburg Dental now offers Invisalign orthodontic treatment, which has revolutionized modern orthodontics. With Invisalign clear aligners, you can improve your bite and malocclusion issues, faster and more conveniently than ever. Make an appointment with the experienced restorative and cosmetic dentists of Williamsburg Dental today for your Lincoln NE Invisalign consultation. We can get you started on the road to a perfectly aligned smile today. Williamsburg Dental proudly restores smiles daily throughout South Lincoln, NE, Centerville, Crete, and the surrounding communities.
What is Invisalign?
Invisalign is a set of removable orthodontic appliances made of nearly invisible plastic aligners that fit comfortably over your teeth. The clear aligners are designed to move your teeth gradually into the desired orthodontic position. Invisalign requires only one set of impressions and photographs of your teeth to be taken during your initial consultation.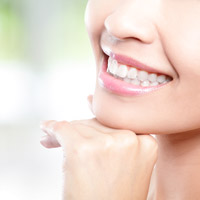 Why Should You Get Invisalign?
Invisalign is superior to traditional orthodontic treatments for several reasons. Unlike traditional bracket and wire braces, Invisalign clear aligners can be easily removed for eating, brushing and flossing, and for special occasions or important meetings. Invisalign is incredibly discrete, so that you can complete treatment without broadcasting it every time you smile. Additionally, Invisalign only takes about 12 months to complete, whereas traditional braces usually take two or more years to complete.
Invisalign Appointments in Lincoln, NE
No matter what your age, Invisalign orthodontics treatment can correct your bite (occlusion), maximize your teeth's effectiveness in performing their daily functions, and create a picture perfect smile. Today, close to 30 % of all orthodontic patients in the United States are adults. Make an appointment with an Invisalign Preferred Provider at Williamsburg Dental today. You can visit our Lincoln dental practice for an individualized Invisalign consultation. Williamsburg Dental proudly serves patients of all ages throughout South Lincoln, NE, Centerville, Crete, and nearby areas.