Restorative Dentistry Advice: Are Dental Implants Right For You?
Are you looking for a better tooth replacement method? Dental implants may be your answer. Dental implants are fast becoming the preferred tooth replacement method of many patients. Dental implants are permanent, easy to care for, and look incredibly natural. To explore how dental implants could dramatically improve your quality of life, make your dental implants consultation appointment with experienced restorative dentistry experts of Williamsburg Dental today.  Williamsburg Dental renews smiles daily throughout South Lincoln, NE, Centerville, Crete, and the surrounding communities.
What Are Dental Implants?
Dental implants are simply tiny biocompatible titanium posts that can be used to fully replace and restore missing teeth and their corresponding roots.
How Are Dental Implants Placed?
First, the tiny titanium screws are placed gently in the jaw. Over the next few months, the implants and jaw bone are allowed time to fuse together naturally to permanently anchor your restoration. Abutments are attached to the implants to form a foundation for your new teeth. There are some implant systems (mini dental implants) that don't require this waiting period. Replacement teeth in the form of dental crowns or dentures can be custom crafted and attached to your new implants. After a short time, you will experience renewed confidence in your smile and your ability to eat your favorite foods and speak naturally.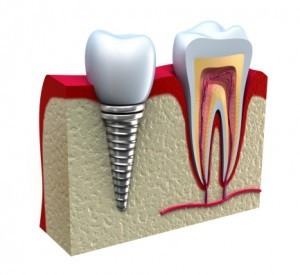 Why Choose Dental Implants?
Dental implants provide several advantages over dentures or dental bridge teeth replacement methods. Dental implants actually look and function just like your natural teeth. Dental implant-supported bridges replace missing teeth without requiring the reduction of your surrounding natural teeth. Additionally, dental implants better preserve your natural bone structure. With bridges and dentures, jaw bone may reduce and deteriorate causing a sunken facial appearance. Dental implants integrate with your jawbone, helping to keep the bone healthy and intact, despite your missing tooth structure. Dentures can be incredibly inconvenient to eat with, and daily maintenance is time consuming. Removable partial dentures can move around in the mouth and reduce your ability to speak clearly. In the long term, dental implants are more esthetically pleasing, better functioning, and more convenient than other tooth replacement option.
Lincoln Restorative Dentistry Appointments
If you have un-restored missing teeth, or ill-fitting dentures, make an appointment for a dental implants restoration consultation at Williamsburg Dental today. Williamsburg Dental is a trusted restorative dentistry for patients throughout South Lincoln, NE, Centerville, Crete, and nearby areas.