Professionally Crafted Dentures in Lincoln, NE
Losing your teeth can be extremely detrimental. Rapid gum disease, tooth decay, and accidents/injuries can all cause serious or total loss of all of your teeth. Losing your teeth is more than an aesthetic problem. Remaining teeth can shift out of position or become misaligned. Without proper stimulation from teeth, your jaw will begin to lose density, which is a terrible problem. Dentures are a sustainable, suitable long-term solution to this major issue. The masterful dentists at Williamsburg Dental are available to construct a phenomenal set of dentures to bring your smile back.
Can I Just Get Dental Implants?
Dental implants are a great choice if you are missing a tooth, or a few teeth in a row. However, if you suffer from severe tooth loss, it is best to consider implant-retained dentures. Like dental implants, dentures are effective at replacing teeth when tooth loss is rampant. Dentures can properly replace your missing teeth, provide shape and tone to your cheeks, and prevent a sunken jaw appearance. Dentures will also restore your ability to chew, speak properly, and give you a significant confidence boost.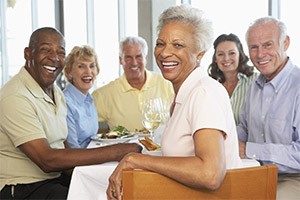 What Do I Have To Do To Get Dentures?
Our elite dentists and our caring team understand the importance of having perfect fitted dentures. After you set an appointment, our attentive team of experienced practitioners will put forth all effort to restore your lovely smile. We will examine your mouth and formulate a plan, and we will keep you in the process every step of the way. We will create a mold specifically for you in our dental laboratory and make sure your individual needs are met. Our dentures have a very natural look and fit better than any other set. After receiving your custom set, we will educate you in how to properly place and care for your dentures.
I Need a Pair Right Now.
Our experienced and qualified restorative dentists are here and prepared to give you a gorgeous smile. If you need dentures as soon as possible, call, email, or fill out this contact form immediately. Our office is happy and ready to accept any and all who live in Lincoln, South Lincoln, Hickman, Crete, and the neighboring areas.