Many children (and many adults) are terrified of going to the dentist. It's natural for them to be cautious of strangers who want to poke strange objects around in their mouths! This apprehension can be frustrating for parents, though, who simply want to establish lifelong dental hygiene and checkup habits. Williamsburg Dental offices have the best children's dentist Lincoln, NE, has to offer, and we promise a safe, non-threatening environment for your children.
When Should My Baby Have His First Dentist Appointment?
The American Dental Association recommends that children have their first dentist's visit around their first birthday, even if they only have three or four teeth. Before that first appointment, it can be fun for toddlers to accompany their parents to an adult dental cleaning, so they can watch Mommy or Daddy get their teeth cleaned, and see that it doesn't hurt.
Your child's initial appointment "in the chair" will usually be a short cleaning and/or tooth counting. Your dentist at Williamsburg Dental will gradually add in more in-depth dental cleanings, X-rays, sealants, and fluoride treatments as children age and are better able to understand what's going on.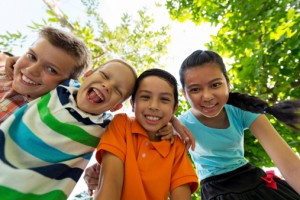 How Can I Make Dentist Checkups Fun for My Child?
Your Lincoln children's dentist at Williamsburg Dental will help a child feel comfortable in our offices. Kids can bring their favorite stuffed animal along to their first visits, so that the dentist can do an "exam" on the animal to show kids what's going to happen. We also offer fun cartoons available for them to watch during their appointment!
For more serious dental work such as fillings or crowns, Williamsburg Dental can administer nitrous oxide (aka "laughing gas") to help children relax. Our dentists are happy to discuss nitrous oxide sedation for children with you further.
There are also a variety of kid's books and TV shows that talk about visiting the dentist in a friendly way. Check out books at the library, like The Berenstain Bears Visit the Dentist. YouTube, PBS Kids, and Disney Jr. all have dentist-themed episodes of children's shows like Sesame Street, Doc McStuffins, and Curious George.
Let's Make an Appointment
Parents in Lincoln, NE, and the surrounding communities of Crete, Hickman, and South Lincoln are welcome to contact us today to get their children started on the journey to a happy, healthy mouth. Dental health is an important part of a healthy body for life, and we're proud to take care of your whole family, no matter how young!