We all have our fears, whether it's speaking in public, spiders, or the fear of dentistry. Up to 75 million Americans have had bad dental experiences that left them too nervous to return even for routine checkups. Unfortunately, neglecting dentist appointments can lead to major dental problems, even when you religiously brush and floss. One way to combat dentophobia, or the fear of dentistry, is through sedation dentistry. Williamsburg Dental is proud to be the top sedation dentist Lincoln, NE, residents turn to time and again. We offer nitrous gas sedation and oral sedation to our patients who are anxious about their appointments.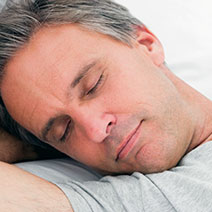 What Is Nitrous Gas Sedation?
You might know nitrous gas by its nickname, "laughing gas", a phrase used in many movies, TV shows, and books. It is odorless and colorless, and helps distract patients by making them feel happy and giggly, removing feelings of fear or anxiety. It has also been shown to help elevate pain thresholds. The word "sedation" belies the actual practice, since patients are not fully sedated, but are conscious so as to ensure their safety and cooperation.
Typically, nitrous oxide is administered via a tube and small mask over the nose and mouth. Once the gas has taken effect and the dental work begins, our dentists will switch to a nasal delivery mask to ensure the nitrous oxide levels are maintained throughout the procedure.
Once your dental work is completed, we remove the mask, and the nitrous side effects disappear within a few minutes. Typically, you will be able to walk around and drive yourself home after an appointment. With both nitrous oxide and oral sedation, patients will still receive local anesthetic at the site of their dental work, if fillings or crowns are being done during the appointment.
The American Dental Association (ADA) deems nitrous oxide sedation safe for children and adults alike, making it a popular choice for alleviating dentophobia in patients of all ages. If you suffer from multiple sclerosis or respiratory disorders such as emphysema, however, nitrous may not be a good choice for you. Our dentists are happy to consult with you on other anxiety management options.
What about Oral Sedation?
Oral conscious sedation is for patients for whom laughing gas alone does not allay their anxiety. As with nitrous gas sedation, patients are not fully sedated, but the stronger medication helps release their fears. A variety of tranquilizers and antianxiety medications are used in conscious oral sedation, with Halicon (a member of the Valium family) being the most commonly used.
Oral sedation dentistry does require a longer recovery period than nitrous sedation dentistry. We advise our patients to make sure they have someone else drive them home after their appointments.
Contact Us Today to Set Up Your Sedation Dentist Lincoln Consultation!
At Williamsburg Dental, we prioritize your comfort and health. If you suffer from dental anxiety, we're here to help you. Southern Lincoln, NE, residents are welcome to call us at any time with questions or to set up an appointment. We also conveniently serve patients from the surrounding communities of Crete, Hickman, and South Lincoln.