For dental implants Lincoln, NE can trust, call the skilled dentists of Williamsburg Dental.
Why Consider Dental Implants, Lincoln, NE
Missing teeth don't make you look or feel you best. In fact, they can cause countless oral health issues including dental drift, bite misalignment, uneven enamel wearing, and even TMJ dysfunction. It's essential not just to your smile, but to your whole mouth health that missing teeth are replaced quickly. Innovations in dentistry mean that you have options. Whether you're missing 1 tooth or a full arch, it is easier than ever to restore your smile. At Williamsburg Dental of Lincoln, NE, our dedicated dental practitioners are here to help you understand your tooth replacement options, and get the treatment you need to look and feel great again. Call to schedule a tooth replacement consultation today.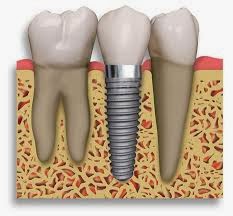 Traditional Tooth Replacement Options
People have been creating innovative tooth replacement techniques for literally 1000s of years. The Etruscans used animal and human teeth to create dental prosthetics as early as 700 BCE. Luckily, dentistry has made some significant advances since then. Patients are able to replace 1 tooth, several teeth, or full arches with minimally invasive restorations. For patients missing 1 to 3 consecutive teeth, a crown and bridge treatment is typically recommended. This procedure involves the creation of replacement "bridge" tooth to fill the gap left by the missing tooth. Crowns are then placed on the surrounding teeth to support the bridge. This is referred to as a crown and bridge.
For patients missing more than 3 teeth, a partial denture is usually recommended. A partial denture is a prosthetic made to fill in gaps in teeth. It connects to surrounding teeth using metal clips. Finally, for patients missing a full arch, dentures are used to restore dental form and function. While these types of tooth replacement may seem very different, they all have one thing in common: they have to rely on other teeth or in the case of dentures, adhesive for support. That's because traditional tooth replacement only restores the visible parts of the tooth. Not the missing root below the gum line. Because the root is not replaced, patients often experience gum tissue deterioration and decreased bone density.
See and Feel the Difference with Dental Implants, South Lincoln
Dental implants are a tooth replacement option that not only replaces the visible parts of teeth, but they also include a titanium post that mimics the function of your tooth's root. Dental implants are placed in two steps. The first step is a minor oral surgery where our experienced dental team will place titanium implant posts into your gums. Over the course of several weeks, the posts will fuse to your jawbone imitating the way your root connects to the jaw. After this process is completed, you'll return to our office to have a custom-made dental prosthesis placed. Your replacement teeth will be connected to one or more posts permanently. That means that your new teeth will look and feel more like your natural teeth. You'll be able to continue eating what you like, you'll retain your gum tissue and bone density, and you can clean your dentures just like natural teeth. Many patients report significant improvement in their quality of life when switching from traditional to implant retained dentures as they are often able to speak more clearly and up to 70% of chewing capabilities are restored.
Call to Schedule a Consultation Today
Not everyone is a good candidate for dental implants, but as technological advances continue, more patients are able to receive dental implants. If you're interested in replacing one or more teeth, don't hesitate to contact the friendly team at Williamsburg Dental. Located in Lincoln, NE, our office welcomes patients form nearby Hickman, Crete and South Lincoln.