Congratulations! You've just received your new dentures from Williamsburg Dental in south Lincoln, NE. They look great, and friends and family have been so complimentary about your new smile. The Lincoln dentist wants to make sure you adjust well to your dentures and enjoy them for years and years to come. With this in mind, Williamsburg Dental offers the following tips and advice for living with dentures.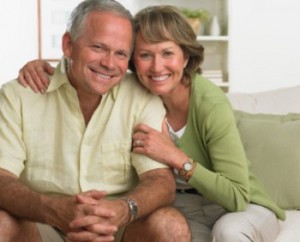 Denture Adhesives. Although we take great care to make sure your new dentures fit snuggly yet comfortably, you may feel more confident at first using a denture adhesive. Adhesives come in a paste or powder form and can help allay your worries about dentures slipping or even falling out. Eventually, your cheek muscles and your tongue will learn how to hold your dentures securely in place. Until then, or when you want to feel extra confident, wearing a denture adhesive is a good idea.
Eating. The old adage, "practice makes perfect" is absolutely true when it comes to eating with dentures. At first, eating will feel very different and that's to be expected. In fact, you should tell yourself that eating with dentures is simply not the same as eating with your natural teeth. Nevertheless, you will adjust. As you do, we recommend you start with foods that are easy to chew and swallow, such as soup, eggs, yogurt, applesauce or very soft pasta. As you add more variety, be sure to cut your food into small bites. Use your tongue to shift the food in your mouth so that there is some on both sides of your mouth. This will help keep your dentures balanced as you chew.
Talking. Like eating, speaking with dentures will take some getting used to. According to some of our patients in Lincoln, dentures make them feel like they have marbles in their mouths when they speak. Don't despair! Instead, the dentists at Williamsburg Dental recommend you practice by reading aloud. When you read the paper, a magazine or a book, or when you're online reading, quietly speak out loud. With steady practice, you'll begin to see improvement in a short amount of time.
Denture Care. For oral hygiene and health—and to make sure your dentures always look their best—you will need to clean your dentures every day. Never sleep with your dentures; your gums need some time to recuperate and be bathed in saliva. Soak your dentures in water while you sleep, so they don't warp. You can add a denture cleaning solution to the water if you want. Don't forget to continue to brush your gums, your tongue and the roof of your mouth if you're a denture wearer.
Call Our Office Today
If you have questions or concerns about your dentures or the way they fit, then call Williamsburg Dental in Lincoln, NE. If necessary, we'll schedule an appointment for one of our dentist to examine your dentures and gums. We're glad to serve all of the Lincoln, NE area, including Hickman, Crete, South Lincoln and beyond.