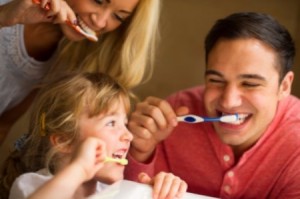 Everyone needs just a few things in life: food, shelter, family and friends to love… and a dentist they can trust. We admit the latter is something a lot of people don't usually think about as one of life's necessities, but when you have a regular dentist you're excited about visiting every six months, you're far more likely to get regular checkups and maintain excellent oral health for a lifetime as a result. At Williamsburg Dental, your South Lincoln dentists want everyone to have the luxury of having a good dentist on their side — and we're happy to announce we're accepting new patients in the Lincoln, NE area this fall! Read on to learn more about what we have to offer you and your whole family.

General and Family Dentistry
We know that most of the time, our patients need little more than the basics. That's why we provide all the best in general dentistry for you and the whole family — from the littlest mouths on up. General services we offer include:
Cosmetic Dentistry
Having a smile you feel great about showing sometimes requires more than the services general dentistry can provide. And you don't have to have serious aesthetic issues to desire a little improvement — in fact, we think most adults could benefit from some aspect of  cosmetic dentistry. That's why we offer the following options:
Replacement & Restoration Dentistry
If you've got one or more missing teeth, or if your teeth are severely cracked, broken, worn down or otherwise damaged, there's usually no question about it — you've got to have them replaced. Aside from making it more difficult to speak, chew and eat, missing or damaged teeth can impact your overall oral health. You shouldn't wait to replace them.. We're proud to offer our patients excellence in replacement dentistry, too, with the following options:
Additional Services
We also offer several great extras to our patients — which, in addition to the high-quality care we provide, we believe truly help set Williamsburg Dental apart from the rest. Other services we provide include:
Request Your Appointment Today
If you're in need of any of the above dental services in the Lincoln area, don't hesitate to request your appointment with Williamsburg Dental today. We're five dentists and a whole team of professionals, proudly serving all of the Lincoln, NE area, including Hickman, Crete, South Lincoln and beyond!