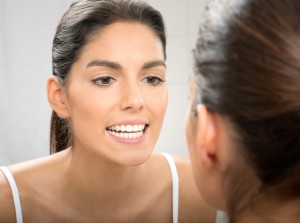 If you doubt that teeth whitening is one of the most popular dental services available, just take a stroll down the oral health care aisle at your local pharmacy or grocery store. You're bound to find shelf after shelf of tooth whitening strips, gels, toothpaste, and mouth rinses. All of these products promise big results, but the low percentage of active ingredient allowed by regulatory boards renders these products almost entirely ineffective. At Williamsburg Dental in Lincoln, our dentists and team offer in-office Boost whitening, and professional grade at-home whitening to brighten smiles up to eight shades. Give yourself the gift of a more beautiful smile for all your holiday photos this season.

Boost Teeth Whitening
It's not every day you find a product that makes you look better, and improves your health at the same time. The Boost teeth whitening system from Opalescence does just that, and that's why Williamsburg and Williamsburg Village Dental offers this product to our patients. In addition to whitening teeth up to 8 shades in an hour, the patented formula contains potassium nitrate and fluoride. Potassium nitrate prevents tooth sensitivity following teeth whitening, and fluoride helps strengthen tooth enamel. Patients interested in Boost whitening should plan to visit our office for about an hour. We first isolate the teeth in order to protect soft tissue that can be damaged by peroxide, the active whitening ingredient. Then, we apply the boost whitening gel. Depending on the severity of stains, we'll allow the gel to sit, and remove the whitener in about an hour. Patients see results up to 8 shades lighter in just one visit.
Take Home Whitening
For patients who prefer a more gradual change, we also provide custom whitening trays and professional-grade gel that can be used from the comfort of home. Patients see results similar to in-office whitening, but typically, they need at least two weeks of daily treatment for the level of change. The custom application trays keep the whitening gel away from soft tissue, and seal out saliva. Saliva is the mouth's natural neutralizing agent, and when it mixes with whitening gel the product becomes ineffective. Unlike over the counter whitening agents, the professional-grade gel actively whitens for an hour or more depending on the dosage of active ingredient you select.
Find out more about Lincoln Teeth Whitening from Williamsburg Dental
If you're interested in teeth whitening or any of the cosmetic dentistry services available from Williamsburg Dental and Williamsburg Village Dental, contact our South Lincoln dentists and team today at either of our two convenient locations.