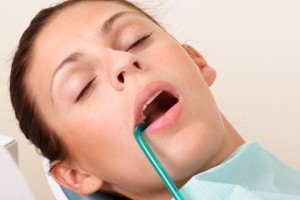 If catching site of a "dental explorer," that little hook thing that dentists use, sets your teeth on edge or the high-pitched whine of the dental drill makes your heart race, you may be experiencing dental anxiety. You're not alone. An estimated 15% of US adults suffer from dental phobia. In fact, fear or anxiety was the second most frequently reported reason patients avoided dental care. While your Lincoln dentist and team strive to make every patient feel relaxed and confident with their treatment plans, we know that there are some patients who just can't feel calm and comfortable in our office. Luckily, at Williamsburg and Williamsburg Village Dental we offer patients nitrous oxide and oral conscious sedation to help them relax through any dental procedure.

Nitrous Oxide Sedation
This is the preferred method of sedation at our practices. Nitrous Oxide allows us to carefully monitor and adjust dosage throughout treatments providing patients maximum comfort. Nitrous oxide is a gas, sometimes referred to as laughing gas, that is inhaled through the nose. Patients inhaling nitrous oxide feel giddy or euphoric which is how it received its nickname. Though patients are highly relaxed, they remain awake and able to communicate throughout treatment. Additionally, nitrous oxide helps reduce the pain or discomfort patients may experience, and it is often recommended for those who find it difficult to numb with local anesthesia alone. Best of all, the effects of nitrous oxide dissipate quickly. Patients are able to drive to and from the office on their own, and can typically resume their normal routine right after their visit.
Oral Conscious Sedation
For those patients who are extremely nervous or who need extensive procedures, oral conscious sedation may be a better option. Patients who choose this sedation option are prescribed an oral sedative to be taken before they ever leave home. By the time patients arrive at our South Lincoln dental practice, they are already highly relaxed and ready for their procedure. Throughout treatment, patients experience no pain or discomfort and are extremely relaxed, but as the name implies, they remain awake throughout treatment. Because of the long lasting effects of oral conscious sedation, patients should have a trusted friend or family member drive them to and from treatment, and stay with them until the effects wear off.
To find out more About Lincoln Sedation Dentistry Contact Williamsburg Dental
If you're interested in finding out more about how our office can help you overcome dental fear or anxiety, contact our Lincoln dentist and team today. At Williamsburg and Williamsburg Village Dental, we're happy to help patients of any age find the right solution to safely and comfortable get the oral health care they need.