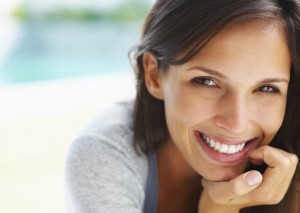 Would you set up your best friend on a date with someone who has bad teeth? If you said, "no," then you are among the vast majority. Some 85 percent of American adults surveyed thought that a person's smile was important to making a good first impression. And nine out of ten Americans think that people with a nice smile are more attractive. So, if your smile is flawed, then consider one of the cosmetic dentistry services offered at Williamsburg Dental. To say the Lincoln cosmetic dentist can change your life is nothing short of the truth!

Teeth Whitening
Tooth discoloration and staining are rather difficult to avoid considering the foods and beverages we commonly eat and drink: chocolate, berries, tomatoes, coffee, tea and red wine to name just a few. Then there are the effects of smoking, certain medications and teeth grinding. No wonder your teeth may look less than white! Fortunately, the South Lincoln cosmetic dentist at Williamsburg Dental has a couple of ways to brighten your smile. For the speediest results, there is Opalescence Boost in-office teeth whitening. On the other hand, if you prefer to whiten your teeth at home, we'll give you custom-fitted mouth trays and professional grade gel. Either way, you'll have a smile guaranteed to impress!
Porcelain Veneers
If more than stains are ruining your smile—chipped, cracked or crooked teeth— then you may want to consider porcelain veneers. Also called dental veneers, or just veneers, these super thin layers of tooth-colored dental porcelain cover all of those imperfections and more. Although veneers are a cosmetic treatment, they are somewhat preventive and restorative, too; they can prevent further damage to a tooth and they can restore not only the form of your tooth, but its function, as well.
All-Porcelain Crowns
A severely damaged or decayed tooth may need a dental crown for the sake of preservation and protection. However, don't under-estimate the cosmetic value of a crown. Fully encapsulated with an all-porcelain crown, your damaged tooth will look completely natural.
Invisalign®
For patients with misaligned teeth, the Lincoln dentist is a certified Invisalign provider. This unique orthodontic system uses clear plastic aligners to gradually move teeth into their correct position. Invisalign clear braces are discreet and removable, so you'll be able to brush and floss as usual and eat all the foods you enjoy.
Call Our Office Today
If there's a cosmetic dentistry treatment you'd like to know more about, then call Williamsburg Dental to schedule a consultation. We're glad to serve all of the Lincoln, NE area, including Hickman, Crete, South Lincoln and beyond.