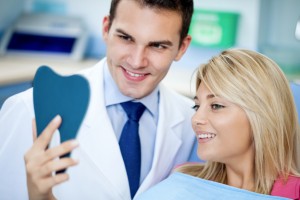 It is no secret that people don't always visit the dentist regularly. In fact, the Centers for Disease Control and Prevention estimates only 61 percent of adults 18-64 years of age have visited the dentist in the past year and only 60 percent of adults over 65 visit the dentist annually. There are many reasons why people don't visit the dentist, such as affordability, dental anxiety, and embarrassment. As time passes between each dentist visit, the damage to your teeth only continues, potentially resulting in serious oral health complications, which can impact your overall health. At Williamsburg Dental, we understand that sometimes you put off going to the dentist, but we're here for you when you are finally ready.

I haven't Been to a Dentist in Years
There are many reasons why people avoid the dentist. Among the top reason people don't go to the dentist is due to dental fear. Fear can be caused from a number of factors, like the fear of needing dental work, fear of instruments, and the fear of being lectured for not going to the dentist sooner.
These fears are only amplified if you've had a bad experience in the past while at the dentist. At Williamsburg Density, we understand your fears and work with you to provide the oral care you need while causing as little stress as possible. And we promise, we won't lecture you about not visiting sooner.
Calm Your Fears with Sedation
As a sedation dentist in Lincoln, we're able to help you overcome your dental anxiety with safe and effective sedation options. Since it has been a while since you've visited the dentist, we understand that you're a little hesitant and worried. We'll work with you to help you feel as relaxed as possible during the visit for peace of mind to receive the dental care you need.
We believe in providing the gentlest dentistry possible for all of our patients, which is why we offer pain-free visits. Our gentle approach is combined with our service-oriented patient center to create a relaxed environment. We use the latest technologies and innovations in dentistry to provide the best dental care with as little discomfort as possible.
Through our gentle and painless approach, you no longer have to fear the dentist or put your oral health at risk. If you haven't been to the dentist recently, don't put your health or smile at risk any longer. You'll be in good hands with Williamsburg Dental.
Williamsburg Dental in Lincoln
We strive to provide the most relaxed environment possible for all of our patients. With you the center of our focus, we truly care about you and your comfort while visiting us. Don't let your dental fears or anxiety hold you back from a healthy mouth any longer. Discover for yourself just how relaxing our office is so you can get the oral care you need for a healthy smile. Call Williamsburg Dental today to schedule an appointment using our gentle approach to dentistry.