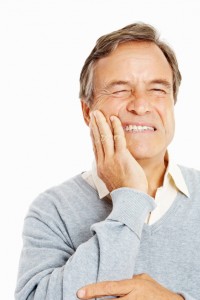 A cracked tooth can happen for a number of reasons, such as from eating something that's hard. No matter the cause, a cracked tooth requires immediate treatment because it can lead to serious complications. As a dentist in Lincoln, we offer many cracked tooth options to quickly and effectively repair a tooth that has been damaged.

Causes of Cracked Teeth
A cracked tooth can be caused by multiple factors and often occurs when we least expect it. Often, a fractured tooth is the result of trauma or injury, but a tooth can crack while eating hard foods, due to uneven chewing pressure, or the loss of a portion of the tooth's structure. Any stress on the teeth, such as grinding, the exposure of tooth enamel, or from root canals, can lead to the eventual cracking of a tooth. When a crack occurs, you need to head to a South Lincoln dentist immediately to reduce the risk of additional complications.
Risks of Untreated Fractured Teeth
According to Dentistry Today, a fractured tooth is the third most leading cause of tooth loss. While small cracks or chips may only seem to cause pain and discomfort, when left untreated, a cracked tooth can eventually lead to the entire loss of the tooth. Not to mention, there's the risk for infection, further tooth decay, and the potential for gum disease. Using various treatment options, we'll quickly and easily repair your cracked tooth to avoid any serious complications.
Cracked Tooth Options
To repair a cracked tooth, you have a number of options depending on the severity and type of crack that occurs. There are 5 types of cracks, which include:
Fractured Cusp—The cusp portion of the tooth cracks or breaks off, often from grinding the teeth.
Craze Lines—Small crack in the tooth's enamel.
Vertical Root Fracture—The root of the tooth cracks and continues into the enamel.
Cracked Tooth—A crack that goes to the root of the tooth.
Split Tooth—The tooth splits entirely in two.
For minor cracks, a dental filling or bonding is all that will be needed to repair the crack. Cosmetic contouring and even a dental veneer are used to repair small to moderate cracks. However, for more severe cracks, a crown or root canal may be needed. In cases, such as a Split Tooth, the tooth may need to be extracted and a replacement tooth will be needed. After treatment, your pain and discomfort will quickly fade away.
While cracked teeth are common, unfortunately, there's not much you can do to prevent them from happening. No matter the severity of the crack, the sooner you get treatment, the more likely we will be able to save the tooth from further damage. At Williamsburg Dental, we offer a number of effective treatments for cracked teeth.
We understand that cracked teeth can happen at any time, and the pain and discomfort can be unbearable, which is why we offer emergency services to help you get the relief you need quickly.
If you're suffering from a cracked tooth, call us today to schedule an appointment.