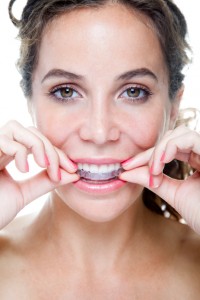 Do you find yourself holding back when you smile because of crooked or misaligned teeth? Have you put off straightening your teeth because the thought of wearing metal braces is worse than dealing with your misaligned teeth? Did you know that through Invisalign, you could straighten your teeth without anyone ever noticing? But does Invisalign really work? Your Invisalign provider in Lincoln, NE has some answers.
What is Invisalign?
Instead of using metal brackets and a wire, Invisalign utilizes clear aligners made of plastic designed to fit snugly over your teeth and apply gentle pressure creating gradual tooth movement. Your dentist creates your treatment plan and your aligners are created based on that plan. With advanced 3D technology, you'll be able to see what your aligned smile will look like before you even start treatment. Your aligners will need to be worn 20-22 hours per day and changed out every two weeks. Most Invisalign cases take anywhere from twelve to twenty-four months to complete.
What are the Benefits of Invisalign?
There are many benefits to the Invisalign system, the first and biggest being how discreet they are. Because your aligners are clear and tight fitting, Invisalign goes virtually unnoticed. You'll be able to talk and interact normally, and you do have the ability to remove them from time to time for a big presentation or event.
Aligners can easily be removed daily for eating, brushing, and flossing. Unlike with traditional braces, this means you won't miss out on any of the foods you normally enjoy, and your home care routine won't have to change at all.
Does Invisalign Really Work?
Not everyone is a candidate for Invisalign, and this is why it's important to work closely with your South Lincoln Invisalign provider. More severe cases needing bite alignment or jaw correction are not appropriate for Invisalign. During your Invisalign consultation, your provider will be able to determine if you're a candidate for Invisalign by taking measurements, x-rays, and photos of your mouth. If you're not a candidate for Invisalign, your provider can review other options available for you.
Invisalign is great for a large number of patients and it does work well when correcting gaping, spacing and general misalignment. It's a great option for adults who have a busy lifestyle, yet will be compliant in wearing their aligners all day long.
At Williamsburg Dental, we've completed many successful Invisalign cases with amazing results. All of our doctors are highly qualified at providing Invisalign treatment and we have two convenient locations where you can receive care. If you've been considering straightening your smile, don't wait any longer. Contact our office today to learn how Invisalign can help you!