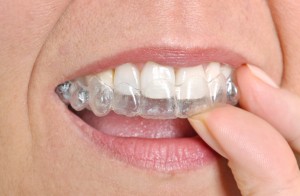 If you're new to the Invisalign treatment, you may have some doubts on caring for your aligners. The team at Williamsburg Dental wants to help you succeed with clear braces! Below you'll find the top seven tips for taking care of your aligners. Read on for everything you need to know about Invisalign in Lincoln!
#1: Rinse often
Those plastic trays can be a breeding ground for the bacteria that causes bad breath — but only if you let them! Make sure you rinse your aligners every time you take them out (and before you put them back in, too) to wash away plaque and other particles. Doing so will help you keep your trays clean for fresher breath and healthier teeth.
#2: Brush and floss your teeth
Because the Invisalign aligners are form fitting to rest snugly against your teeth, they can easily trap bacteria between the teeth and on the surface, too. Brush and floss your teeth carefully before you reinsert your trays to make sure you're not exposing your smile to decay-causing bacteria.
#3: Soak aligners
Use the Invisalign Cleaning Crystals soaking solution to keep your aligners clear and clean throughout your treatment. Denture cleaner is good for soaking, too.
#4: Avoid hot water
To keep your Invisalign trays the right shape, make sure you avoid hot water or beverages. These can warp the plastic, potentially delaying your orthodontic treatment. If you do accidentally expose your aligner to high temperature, you should schedule an appointment with your dentist immediately.
#5: Be gentle
When you're brushing your aligner as recommended with a clear, anti-bacterial soap, make sure to be careful. It may feel like you're getting them really clean with vigorous brushing, but this harsh scrubbing will scratch the aligners.
#6: Don't leave them exposed
While you're eating or anytime you're not wearing your Invisalign aligners, make sure they're soaking or covered. Leaving them out in the open exposes the trays to bacteria and also increases the risk you'll misplace them or — even worse — throw them away. And when you're ready to reinsert your trays, make sure to rinse them, first.
#7: Keep your old aligners
As you advance through the Invisalign treatment, make sure you're holding onto your old aligners. It's always possible that you'll need to return to an old tray at some point — and when you do, you don't want to have to have another one made.
Do you have remaining questions about your Invisalign treatment? If so, let us know in the comments below or contact us to schedule an appointment at Williamsburg Dental! We'll help you breeze through your Lincoln Invisalign treatment on your way to a straighter, more beautiful smile.