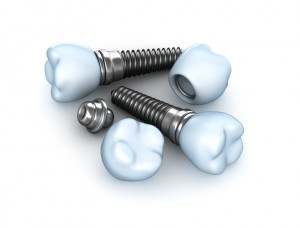 If you're suffering from tooth loss, you want a lasting solution that not only looks great, but functions great. If you're looking for a permanent solution that functions and looks like natural teeth, dental implants are the thing for you. Implants offer unsurpassed benefits when compared to dentures, however, many feel implants are simply out of the question because of the cost. While implants are more expensive upfront than dentures, you can still get implants affordably using financing. As your dentist for dental implants in Lincoln, we're here to help you get a new smile with implants for the most affordable price.

How Much Do Dental Implants Cost?
This is a difficult question because the cost will vary considerably based on multiple factors, such as the implant dentist you choose. On average, a single tooth replacement using an implant can range in price from $3,000 to $5,000. The cost is determined based on several factors, such as if tooth extractions or bone grafting are needed before the implant procedure.
In addition, the number of posts used plays a role in the price. For example, if you're having multiple adjoining teeth replaced, more than one post will likely be needed to anchor the replacement teeth in place.
Unfortunately, most insurances won't help cover the cost of the procedure because it's considered to be elective. However, insurance may cover certain parts of the procedure, but not the procedure in its entirety. For example, if you need a tooth extraction prior to the implants, insurance is likely to cover the extraction.
Since insurance typically doesn't cover the cost of implants, many turn to dentures instead. However, while implants do cost more upfront, they are cheaper in the long run as you'll be making an investment in your smile. While dentures are cheaper upfront, you will have to have frequent adjustments and new dentures made as you lose bone dentistry, but not with implants. Implants are permanent and will only require one procedure.
Affordable Dental Implants in Lincoln
At Williamsburg Dental, we try to make our services affordable for everyone, including those interested in dental implants. While we work with most insurances, we know that implants are an elective procedure and most insurance won't cover the full cost. This is why we offer payment plans and financing through CareCredit to help you receive a new smile for an affordable price.
Using our in-house financing, you have up to three months to pay the remaining out-of-pocket costs for the implants. If that doesn't meet your budget, we offer financing through CareCredit. If you're approved for CareCredit, you'll have monthly payments that fit into your budget to pay the remaining out-of-pocket cost in full.
As your Lincoln dentist, we don't want to see you put your oral health or smile on hold because of money. We offer the affordable solutions you need to benefit from dental implants. Let us work with you to complete your smile. Call our office at (402) 421-6611 for a consultation.