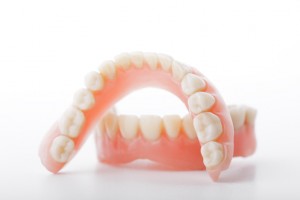 Dentures are one of the most popular options to replace missing teeth because they are affordable and convenient. Now, new advancements make dentures look more natural with improved function and comfort. If you've chosen to benefit from dentures in Lincoln, we want to see you protect your new smile with the proper denture care. With the right care, you'll promote the longevity of your dentures and comfort before needing adjustments or replacements. By keeping them clean and free from stains, you'll keep your dentures looking their best for as long as possible.

Caring for Your New Dentures
An important aspect of maintaining dentures is proper cleaning. Dentures that are well cleaned will not only maintain their appearance better, but prevent you from developing oral health complications by removing bacteria.
To keep bacteria levels down, you need to remove and rinse your dentures off after you've eaten. This will remove food particles that may have become trapped. Don't use hot water because it will cause the dentures to warp. After you've removed your dentures, use a soft-bristled brush to clean any remaining natural teeth, your cheeks, gums, tongue and roof of your mouth.
Before placing your dentures back into your mouth, you will need to rinse your dentures off, especially if you placed them in a denture-soaking solution. In addition to cleaning them after you eat, you will need to brush your dentures at least one a day. Be sure to use nonabrasive products, preferably those that are made for denture care.
Preventing Damage to Your Dentures
While dentures are durable, they can be damaged so there are some steps you need to take to ensure they don't become damaged. When removing your dentures, be careful when handling them so you don't drop them. If you're caring for them in the bathroom, it's best to place a towel on the sink, counter and floor to provide a layer of cushioning if they should fall.
You will also need to soak your dentures whenever they aren't in your mouth. It's best to use a denture-soaking solution to keep them from drying out. If your dentures dry out, they will shrink, become misshaped, and will no longer fit as they should.
While you want to keep your dentures looking great, you need to avoid using any abrasive products or products that can cause damage, such as whitening toothpastes. Whitening toothpastes are usually abrasive and will cause scratches to develop. In addition, don't use any products that contain bleach because they will cause the color of the dentures to change and weaken the prosthetic teeth.
Dentures from Your South Lincoln Dentist
As your dentist for dentures in Lincoln, we want to see you protect your new smile with the right care. In addition to your home care, you'll need to visit our office regularly. This will allow us to examine your oral health and your dentures to look for areas of concern. We will professionally clean the dentures to keep them looking great while maintaining a proper fit. Call our office today at (402) 421-6611 for an appointment.