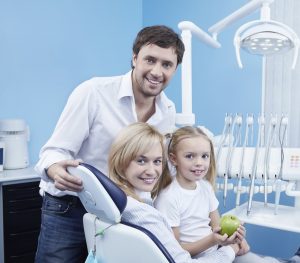 When it comes to dental care, Williamsburg Dental understands the importance of making dental services accessible and affordable. To provide the most cost-effective, comprehensive care possible, we are proud to be an in-network dental office for Delta Dental. As the largest dental insurance carrier, Delta Dental is committed to decreasing out-of-pocket expenses to ensure your family receives the dental services needed to protect and restore oral health. As a Delta Dental dentist in Lincoln, we work with your dental plan to ensure you maximize the value of your dental insurance policy.

Your Dentist for Affordable Care
As the United States largest dental insurance provider, more than 68 million Americans rely on their Delta Dental insurance plan to make dental services more affordable. As a Delta Dental provider in Lincoln, we help our patients benefit from less out-of-pocket expenses to ensure you maintain your oral health. We understand that the cost of dental services is a leading reason for people to put off going to the dentist until after a problem has developed. We do not want to see you place your oral health at risk due to the expense. We offer the services you need, while also being covered under your dental plan.
At Williamsburg Dental, we offer complete dental care with solutions for the whole family. Our preventive services provide the cleanings and checkups you need to protect your teeth and gums from damage. As an in-network dentist, your dental plan is likely to cover regular checkups and cleanings for little to no cost to you. If we are to find a problem during your routine appointment, we provide the restorative services and solutions needed to repair the damage to restore your oral health. Many Delta Dental insurance plans cover a portion of restorative services, making the care more affordable to you.
In addition to preventive and restorative dentistry, we offer cosmetic and orthodontic services to ensure your smile is as attractive as possible. Many of Delta Dental's insurance plans will cover a small portion of cosmetic and orthodontic procedures to make it more affordable to enhance the appearance of your smile.
We even offer areas of specialty to cater to the needs of your entire family. We provide children's dentistry to help set the right foundation for the development of healthy smiles for future generations. For those who have missing teeth, we offer the solutions you need to restore your smile with many options for dental prosthetics, including dental implants.
To ensure your care is as comfortable as possible, we provide Nitrous Oxide sedation to help you relax. No matter if you have dental fears or need to have an invasive procedure performed, the use of sedation will make the treatment more enjoyable.
Your In-Network Dentist for Delta Dental
Studies show that one of the top reasons people avoid going to the dentist is due to the cost of care. As an in-network dentist for Delta Dental, we work with your insurance carrier to make dental care more affordable.
If you are in need of an in-network dentist, please contact our office today to schedule an appointment.