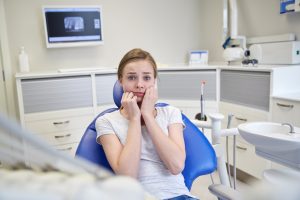 If just the thought of going to the dentist strikes fear into your heart, know that you're not alone. Millions of Americans just like you feel fear or anxiety about their dental appointments, and sadly this often keeps them from getting the care that they need and deserve. The good news is that there is hope, and your trusted team at Williamsburg Dental has solutions for you. If going to the dentist makes you anxious, your Lincoln sedation dentists can help.
What is Sedation Dentistry?
Through the use of medication or breathable gas, we can help you relax and feel at ease during your dental appointments, while still being conscious and responsive. This allows us to perform dental procedures with the use of sedation for our patients in the comfort of our office. We offer two types of dental sedation for your comfort and convenience, and our doctors are happy to discuss your needs with you to determine which option is right for your needs.
Nitrous Oxide
Nitrous oxide is a gas that we administer through a mask worn during your dental procedure. Nitrous works quickly to help "take the edge off, so you can relax and feel at ease during your treatment. It can be used for all types of dental procedures from dental cleanings to root canal therapy, and it's also safe for children. Nitrous leaves your system quickly so you'll be able to drive yourself home from your appointment and participate in all of your normal activities after your dental appointment.
Oral Conscious Sedation
This is a great option for patients who experience mild to moderate dental fear or phobia. Our doctors will prescribe medication to be taken orally approximately one hour prior to their appointment. The medication results in a deeply relaxed state where you're still responsive, yet you'll have little to no memory of what went on during your dental procedure.
Due to the lingering effects of the medication, which are different for everybody, oral conscious sedation requires the patient to have a ride to and from their dental appointment. Patients should plan on taking the rest of the day off to relax after their dental procedure.
We never want fear or anxiety to keep our patients from getting much needed dental care. If you or a loved one feels anxious about going to the dentist, contact Williamsburg Dental today to learn more about how we can help you.