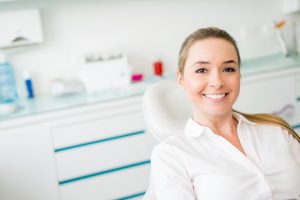 Dental crowns in Lincoln strengthen and reshape failing teeth, avoiding their extraction and creating outstanding smile aesthetics. Drs. Gessford, Rossini, Killeen, Beddes and Kotopka of Williamsburg Dental offer lifelike crowns as part of their comprehensive approach to exceptional dental care.
What is a Dental Crown?
The dental crown has been a tried and true restoration for decades, providing patients facing tooth extraction or with compromised oral function and aesthetics a strong and lifelike option for renewing teeth:
That have extensive decay or multiple fillings
Which are misshapen
That are fractured from oral injury
Which have had root canal therapy
In addition, porcelain crowns from your Lincoln dentists may support fixed bridgework or restore dental implants, today's superior tooth replacement option. Versatile, tooth-colored restorations which may be included in a total smile makeover, dental crowns preserve and protect healthy tooth structure for years.
Types of Dental Crowns
Dentists employ various materials to fabricate dental crowns. Among them are metal alloys, precious metals (the strongest) and solid porcelain. Porcelain crowns are very popular because of their lifelike appearance, lack of a dark line at the gums and durability. On the average, dental crowns last from five to 15 years with good at-home and in-office hygiene. Often, they are used with tooth-colored restorations such as composite resin fillings, fixed bridgework (to anchor up to three false teeth in a row) and partial dentures.
The Crown Treatment
To begin treatment, the dentist performs a thorough oral examination, including digital X-rays. He prepares the tooth to receive its restoration by removing any decay and old filling material. He then takes an oral impression to send to a trusted dental lab for fabrication of the crown. He may place a "temporary" cap to protect the tooth in the interim.
At the lab, a skilled technician uses the dentist's instructions and the oral impressions to craft a perfect crown. At the next visit to Williamsburg Dental, the doctor glues the porcelain crown in place with special bonding cement and adjusts the bite.
Caring for a Dental Crown
To care for their porcelain crowns, patients simply brush twice a day and floss daily as usual. Also, routine semi-annual exams and cleanings with Dr. Kotopka and his colleagues are important. Patients who grind or clench their teeth should consider wearing custom mouth guards at night to reduce wear and tear on their restorations. With good care, a smile renewed with dental crowns will last for years.
Work to Preserve Your Teeth
You needn't suffer with failing teeth, nor do you have to lose teeth to extraction or injury. Keep the teeth you have with beautiful restorations from Williamsburg Dental.  If you are concerned about the health or aesthetics of a particular tooth, why not contact the office today for an appointment? We'll make your restorative dentistry consultation easy and comfortable, and you'll get all your questions answered.