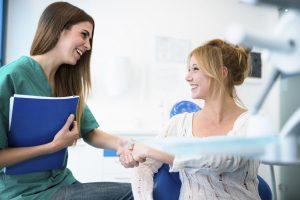 It is no secret that dental care can be expensive, which is why you need dental insurance. However, this is often where the confusion regarding insurance benefits begins. Your dental benefits are different than your medical insurance. In fact, they are two different types of insurance. It can be difficult to determine where the line is drawn between which services are covered under each insurance. As a result, many people delay seeing their Lincoln dentist because they are not sure what is covered or which insurance to use. At Williamsburg Dental, we do not want to see you avoid the dentist because you do not understand your insurance benefits. We have the information you need to decrease the confusion about your insurance policies.

Medical Insurance vs. Dental Insurance
Essentially, dental benefits are designed to stop problems before they begin. This is why many dental plans cover preventive care in full. Preventive care decreases the likeliness dental problems will develop in the future. As a result, dental costs are kept to a minimum with regular appointments to the dentist, fluoride treatments, dental sealants, and other preventive procedures.
On the other hand, medical insurance is designed with less of a focus on prevention. As a result, many do not visit the doctor until after a problem has developed, such as injury or illness. This causes the cost of medical care to increase.
However, the use of your benefits is not nearly that cut and dry. There are some instances where your medical insurance can be used at your dental office. When dental procedures or treatments are considered to be medically necessary, such as treatment for sleep apnea, both your medical and dental insurances can be used.
Maximizing Your Dental Benefits
In most cases, your dental benefits will be the only insurance used when it comes to your oral health. While each dental policy is different, most dental insurances will cover preventive appointments in full each year. This includes dental cleanings, examinations, x-rays, and preventive procedures. In addition, you are given a yearly allowance to use towards restorative procedures. Your insurance can cover as much as 80% of restorative treatments. In some cases, your dental insurance may even cover parts of cosmetic or orthodontic treatments.
We understand that dental benefits can be quite confusing. We help make the process easier by filing claims with your insurance company to help you maximize your dental benefits for affordable care. We are in-network with many leading dental insurance carries, including Delta Dental, Cigna, and MetLife. If there comes a time when your medical insurance will need to be used, we will help you file claims with your medical insurance.
To keep out-of-pocket costs to a minimum, we offer payment and financing options. In addition to accepting all major credit cards, we also offer in-house financing and work with CareCredit to help you pay for dental procedures.
If you are ready to make the most of your dental benefits, contact Williamsburg Dental  today. We will help keep costs to a minimum while enhancing the health of your smile.