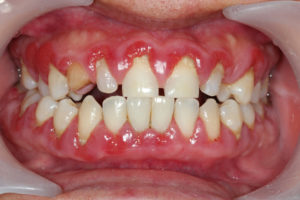 When most of us think of gum disease, you may think of bleeding after brushing, bad breath, and even gum line recession—but most of us don't think of heart disease, strokes or even respiratory illnesses. It's great that most patients can recognize the early signs of gum disease, but we think it's important to highlight the even more severe complications to keep in mind as well. Williamsburg Dental has a dentist in Lincoln that's ready to offer a wide variety of general and preventive dentistry services to families who need it—including periodontal therapy for the critical treatment of gum disease.
Understanding Gum Disease Itself
Gum disease is a chronic inflammatory condition. When it first starts off, the most common symptoms include red, swollen gums that may bleed easily while brushing or flossing your teeth. During the beginning stages, gum disease is curable with a deep professional cleaning and a good regimen of brushing and flossing at home. But, as the disease progresses, pockets of infection can form at the gum line. This eventually leads to loosening teeth, chronic bad breath, and worsening infection can occur. Ultimately the bond between your gum tissue, teeth, and even bone may be lost. If gum disease reaches its advanced form (periodontal disease), surgery may be required to remove diseased tissue and promote the growth of healthier gums, followed by tooth replacement with a prosthetic.
The Mouth-Body Connection: How Gum Disease Affects Overall Health
Understanding the connection between your mouth and the rest of your body is easier if you begin to view your mouth as a portal to the rest of your body. It'll become easier to wrap your head around why treating gum disease is so vital to overall well-being. When bacteria from around and beneath the gum line are allowed to enter the bloodstream, serious health concerns can come about. In fact, recent studies have linked untreated gum disease with a number of potentially life-threatening conditions.
Heart disease
High blood pressure
Rheumatoid arthritis and osteoporosis
Cancers of the blood and the pancreas
Respiratory illness, including pneumonia
Stroke
Dementia
Higher risk of premature birth and low birth weight in pregnant women
Heart attack
What We Can Do to Help
Root planing and scaling are completed when gums have either started to pull away from the teeth or the roots of the teeth have caked up tartar along them. Gum recession is a pretty serious condition because it leaves the rest of your body susceptible to infection. But, if you maintain good dental care after the procedure, the progression of gum disease should stop and your gums will have the chance to heal and become firm, pink, and healthy once more.
All in all, gum disease treatment in Lincoln is a simple procedure that can work very well to stop gum disease. But it is important to realize that poor dental hygiene is the main factor that plays into developing gum disease. The fate of your oral health lies in your hands. We recommend that you brush and floss regularly as well as visit our Williamsburg Dental office regularly. Contact us today to schedule your next appointment.